DATE & TIME
• Events and workshops
February 27 through March 3, 2017

• Reading & Performance
The Betsy Hotel
Friday, March 3
8:00pm

• Teen Slam
Miami Beach Botanical Garden
Thursday, March 2
6:00pm
TICKETS
All events are FREE
Note that these events already took place
LOCATIONS
The Betsy Hotel
1440 Ocean Drive
Miami Beach 33139

Miami Beach Botanical Garden
2000 Convention Center Dr.
Miami Beach

To request materials in accessible format, sign language interpreters, and/or any disability accommodation, please contact Tigertail at 305 324 4337, info@tigertail.org, ten days in advance to initiate your request. TTY users may also call 711 (Florida Relay Service).
DIRECTIONS
Click for a Google map to The Betsy Hotel

Click for a Google map to MB Botanical Gardens
SpeakOut Tigertail's LBGTQ teen spoken word project — featuring Andrea Assaf
Andrea Assaf leads this year's SpeakOut week residency. SpeakOut, a LGBTQ teen spoken word project includes workshops in public high schools, slams and performances, and artist residencies. Andrea Assaf is a performer, writer, director, cultural organizer and the founding Artistic Director of Art2Action Inc., with a Masters degree in Performance Studies and BFA in acting from NYU. She returns for a 2nd year for this residency in Miami-Dade schools
In addition to her work in the schools, Andrea will lead SpeakOut a teen slam at Miami Beach Botanical Garden on Thursday, March 2. All SpeakOut events are free and open to gay-friendly persons.
On Friday, March 3, at 8PM, Andrea Assaf will perform a reading of her poetry and theater works at The Betsy. This performance is free and open to all.
SpeakOut grows out of Tigertail Productions' existing and highly successful WordSpeak teen spoken word project, which brings poets and performers to Miami each year to lead workshops for teens. Tigertail also sponsors and coaches a WordSpeak team of Miami teens who attend the national Brave New Voices spoken word youth slam and festival in the summer. Tigertail produces a book and a CD of the teen poems. Gay teens from the SpeakOut project have the opportunity to participate in the main WordSpeak program adding their unique voices to Miami's youth culture.
Assaf is currently Artist-in-Residence and guest faculty at the School of Theatre & Dance, University of South Florida (Tampa).  Her organization, Art2Action, Inc., recently received a $189,200 grant for THIS Bridge, a project she will produce in partnership with USF. The grant is one of only six awarded nationwide by the Association of Performing Arts Presenters (APAP) "Building Bridges: Campus Community Engagement Grant Program," a component of the Doris Duke Charitable Foundation and the Doris Duke Foundation for Islamic Art. Other awards include a National Performance Network Creation Fund Commission, 2010 Princess Grace Award in Theater, 2007 Hedgebrook residency and a 2004 Cultural Contact grant. She is a Board member of Consortium of Asian American Theaters & Artists and Alternate ROOTS, and a member of Radius of Arab American Writers).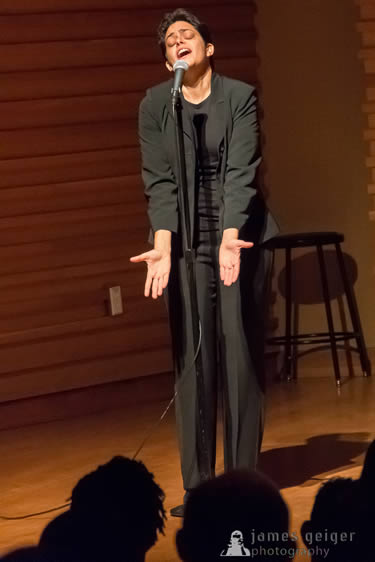 photo credit: La Mama
Andrea creates original performances – from page to stage, language to embodiment, political consciousness to poetic sensibility. In 2015, performances of her original, poetry-based theater production, Eleven Reflections on September, included La MaMa Experimental Theatre in New York City, The Apollo Theater's Women of the World (WOW) Festival, and the Kennedy Center's Millennium Stage. Other original theater works include Outside the Circle, a play about sexuality and (dis)ability co-written with Samuel Valdez, which toured nationally in 2012; and Fronteras Desviadas/Deviant Borders, created in collaboration with Mujeres en Ritual Danza-Teatro, which toured in Mexico, Nicaragua, the U.S. and Canada (2005-07).