TIGERTAIL PRODUCTIONS PRESENTS
Astrid Hadad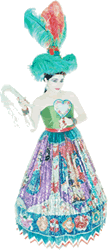 Astrid Hadad is a hilariously funny Mexican diva with a message—one whose brilliant and theatrical performances blend social and political satire with musical virtuosity. In her new show, Lúdica Mujer Impúdica, accompanied by her talented band, she mixes and recasts ranchera, bolero, rumba, rock and jazz through a wild and unique sensibility that mines Latin identity from a distinctly female point of view. Her extravagant, inventive costumes—delirious performance pieces that are instant camp classics—are inspired both by Frida Kahlo and Mexico's underground club scene.
"…a surrealistic aesthetic so wild and eccentric it makes Salvador Dali seem tame by comparison."
San Francisco Bay Guardian
"No one…has stuffed all of Mexican political and cultural history into a dress and laced it up with feminist attitude quite like Ms. Hadad."
The New York Times
"She looks like an extra from Priscilla, Queen of the Desert."
London Guardian
"Performance artist Astrid Hadad finds fodder in unusual places. Heartbreak, machismo, corruption? Now that's funny."
Los Angeles Times
This is our 27th season. We believe that community involvement is essential. Season partners and supporters include: AeroMexico; Allegany Franciscan Ministeries; Alternate ROOTS, Nathan Cummings Foundation and the Ford Foundation; American Express Company; Arthur F. and Alice E. Adams Charitable Foundation; BankAtlantic Foundation; Books & Books; Bresaro Suites; Centro Cultural Brasil-USA; City of Coral Gables Cultural Arts Program; City of Miami Beach Cultural Affairs Program, Cultural Arts Council; Consulate General of Brazil; Dade Community Foundation; DindyCo; Embraer; E.S. Moore Family Foundation; Etra Fine Art; Florida Dance Association; FIU Dance Department; Foundation for Contemporary Arts; Frida Kahlo Tequila; Greater Miami Convention and Visitors Bureau; Joseph H. and Florence A. Roblee Foundation; Mellon Private Wealth Management; M-DC Dance Department; Miami-Dade County Department of Cultural Affairs and the Mayor and Board of County Commissioners; Miami-Dade County Public Library; Miami-Dade County Public Schools; Miami River Inn; National Endowment for the Arts; National Performance Network; New World School of the Arts Dance Department; Publix Super Markets Charities; The Law Office of Linda M. Smith; Southern Arts Federation; State of Florida, Department of State, Division of Cultural Affairs and the Florida Arts Council; TAM Brazilian Airlines; Touch South Beach; Vortex Communications; WDNA & WLRN FM.
DATE & TIME
Friday & Saturday
October 20-21, 2006
8:30 pm
Season Pass event
Save on this and
other Tigertail events.
Buy the Pass now

(Note that this event has already passed.)
We hosted a special panel discussion and reception with Astrid Hadad and others
Wednesday, October 18
6:30 pm
Click here for more information
LOCATION
Colony Theatre
1040 Lincoln Road
Miami Beach, FL



DIRECTIONS
South Beach, including Lincoln Road, is bustling on weekend nights. Plan to arrive early in order to find parking.
Click here for a map
and directions, with parking information