TIGERTAIL PRODUCTIONS PRESENTS
Season Kick-Off
Meet-the-artist, panel discussion and party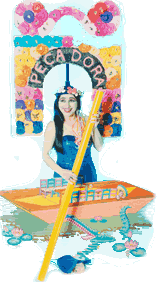 Come help us launch Tigertail's 2006/2007 season with a night of smart talk and cool partying. The evening begins at 6:30 p.m. with a terrific panel discussion. At 8 p.m. the party really gets going with a meet-the-artist reception for Astrid and a celebration of Tigertail's upcoming season. Join us for light fare courtesy of Touch Restaurant & Lounge, one of Lincoln Road's best destinations, with complementary drinks of Frida Kahlo brand tequila. You won't need an RSVP, but capacity is limited.
Cultural Striptease: Sex, Humor and Latin Identity
What role can humor play in revealing and transforming our notions of gender and sexuality? What are the responsibilities of artists in advancing public discourse on social and political issues? Is a performer like Astrid Hadad particularly atrevida or daring in skewering Mexican machismo in the context of Latin American culture? How does an audience member's expectations change their interpretation of specific performances? (For example, Astrid's shows can be read as Dada-inspired art, as campy gay humor, or as a straight-forward cabaret-style interpretation of traditional Mexican music.)

Join us for a rousing discussion with panelists Astrid Hadad herself along with Susan Caraballo, founder of Artemis and its Surreal Saturday series, and currently Arts Administrator at CIFO, the Cisneros Fontanals Art Foundation; Teo Castellanos, actor, playwright and director, and founder of D-Projects performance company; Danilo de la Torre, better known as his alter-ego Adora, one of Miami's most talented and beloved drag performers; Javier de Pison, an arts and culture writer for many international media outlets and founder of Miami's Wild Seduction gallery; and moderator Celeste Fraser Delgado, cultural critic, Adjunct Professor at Barry University and publisher of the online magazines Category305.com and Meansheets.com.
---
This is our 27th season. We believe that community involvement is essential. Season partners and supporters include: AeroMexico; Allegany Franciscan Ministeries; Alternate ROOTS, Nathan Cummings Foundation and the Ford Foundation; American Express Company; Arthur F. and Alice E. Adams Charitable Foundation; BankAtlantic Foundation; Books & Books; Bresaro Suites; Centro Cultural Brasil-USA; City of Coral Gables Cultural Arts Program; City of Miami Beach Cultural Affairs Program, Cultural Arts Council; Consulate General of Brazil; Dade Community Foundation; DindyCo; Embraer; E.S. Moore Family Foundation; Etra Fine Art; Florida Dance Association; FIU Dance Department; Foundation for Contemporary Arts; Frida Kahlo Tequila; Greater Miami Convention and Visitors Bureau; Joseph H. and Florence A. Roblee Foundation; Mellon Private Wealth Management; M-DC Dance Department; Miami-Dade County Department of Cultural Affairs and the Mayor and Board of County Commissioners; Miami-Dade County Public Library; Miami-Dade County Public Schools; Miami River Inn; National Endowment for the Arts; National Performance Network; New World School of the Arts Dance Department; Publix Super Markets Charities; The Law Office of Linda M. Smith; Southern Arts Federation; State of Florida, Department of State, Division of Cultural Affairs and the Florida Arts Council; TAM Brazilian Airlines; Touch South Beach; Vortex Communications; WDNA & WLRN FM.
DATE & TIME
Wednesday
October 18, 2006
6:30 pm – Panel
8:00 pm – Reception

(Note that this event has already passed.)
LOCATION
Etra Fine Art
50 NE 40th Street
Miami, FL