Guggenheim & Bessie Award-winner Tere O'Connor explores architecture as a fundamental, subliminal force in choreography as well as in the human experience. Presented in the bare setting of an industrial building turned art gallery, Rammed Earth defies expectations. Audience members become active participants in this performance as they are escorted into different viewing positions throughout the evening.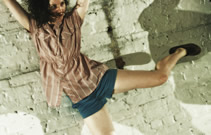 In addition to choreographing for his own company, Tere O'Connor has created dance works for such dance greats as Mikhail Baryshnikov. The company has performed around the world for more than two decades.

"Rammed Earth ... is a work that grows richer over time. ...it is hard to think of a more finely tuned contemporary ensemble than this nuanced, virtuosic troupe."

– The New York Times, September 29, 2008

Read the Artforum interview with Tere O'Connor about Rammed Earth at Artforum.com

Read Miami ArtZine's preview article about Rammed Earth.

Check out the extensive half-page story in the Miami Herald.


Panel Discussion The Body of Space: A Dialogue Between Dancers and Architects with Tere O'Connor; Nathaniel Belcher, Director, FIU School of Architecture; Rene Gonzalez, architect; Dale Andree, choreographer; and moderator Richard Townsend, Deputy Director External Affairs, Miami Art Museum.

Wednesday, November 12, 6:30 pm
FIFI projects gallery
167-B NW 23rd Street, Wynwood Arts District, Miami
(note that this panel event has alreay taken place)
More on Tere O'Connor at
www.tereoconnordance.org
Season partners and supporters for our 29th season include: Allegany Franciscan Ministries; Arthur F. and Alice E. Adams Charitable Foundation; Audrey Love Charitable Foundation; BankAtlantic Foundation; Barefoot Wine & Bubbly; Biscayne Times; Books & Books; Bresaro Suites at the Mantell Plaza, The Children's Trust; City of Coral Gables Cultural Arts Program; City of Miami; City of Miami Beach Cultural Affairs Program, Cultural Arts Council; Consulate General of Brazil; Consulate General of Canada; Consulate General of the Federal Republic of Germany; Consulate General of France; Consulate General of the Netherlands; Dade Community Foundation; Dorsch Gallery; E.S. Moore Family Foundation; Florida Dance Association; Florida Department of State, Division of Cultural Affairs and the Florida Arts Council; Florida Literary Center; Foundation for Contemporary Arts; The Galler Group; Greater Miami Convention and Visitors Bureau; Grolsch; Locust Projects; Meet The Composer MetLife Creative Connections; MiamiARTzine.com; Miami-Dade County Department of Cultural Affairs and the Mayor and Board of County Commissioners; Miami-Dade County Public Library; Miami-Dade County Public Schools; Miami River Inn; National Dance Project of the New England Foundation for the Arts, with lead funding from the Doris Duke Charitable Foundation, additional funding provided by The Andrew W. Mellon Foundation, The Ford Foundation and MetLife Foundation; National Endowment for the Arts; National Performance Network with major funding from the Doris Duke Charitable Foundation, Ford Foundation, the National Endowment for the Arts (a federal agency), Altria, MetLife Foundation and the Nathan Cummings Foundation; Open Doors; Pridelines; Publix Super Markets Charities; Safe Schools South Florida; Shake-A-Leg Miami; The Sain-Orr Royak DeForest Steadman Foundation; Rain Vodka Organics; The Law Office of Linda M. Smith; Southern Arts Federation; Vortex Communications; WDNA & WLRN FM and our many private supporters.