TIGERTAIL PRODUCTIONS PRESENTS
Marcia Milhazes Dance Company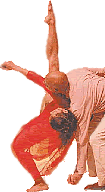 Award-winning Rio de Janeiro-based choreographer Marcia Milhazes returns to Miami as part of a three city tour with her newest work, Tempo de Verão (Time of Summer). Inspired by summertime waltzes and family memories, the heat of the day and the breeze of the evening, Milhazes weaves together subtle variations on human relationships and a love of nature. Joyous, wistful and always sensual, the piece combines a lilting musical score with a collage of the sounds of summer itself. The playful sets are created by internationally renowned visual

artist Beatriz Milhazes. The company comes to Miami as part of a three-city tour that includes New York and New Orleans. Marcia Milhazes work has been previously presented in France, Germany, England and Portugal.
"Milhazes' work possesses a languorous fluidity and sultry physicality."- Dance Magazine

Click here to see video clips of the Marcia Milhazes and Marie Chouinard Dance Companies along with an interview with Tigertail's Mary Luft on Miami-Dade TV's Downtown Dade.
Marcia Milhazes Dance Company is co-presented in partnership with Centro Cultural Brasil USA (CCBU)

The Miami residency of Marcia Milhazes and the performances of Tempo de Verão are part of the National Performance Network (NPN) Performing Americas. Performing Americas is a partnership between NPN and the Network of Cultural Promoters of Latin America and the Caribbean (La RED) designed to increase artistic exchange in the Western Hemisphere. Performing Americas is supported by the NPN through funding provided by the Doris Duke Charitable Foundation, with additional funding from the Ford Foundation for the United States component of the initiative, and targeted support for this residency, in part, by a grant from the National Endowment for the Arts in partnership with Southern Arts Federation and the State of Florida.
This is our 27th season. We believe that community involvement is essential. Season partners and supporters include: AeroMexico; Allegany Franciscan Ministeries; Alternate ROOTS, Nathan Cummings Foundation and the Ford Foundation; American Express Company; Arthur F. and Alice E. Adams Charitable Foundation; BankAtlantic Foundation; Books & Books; Bresaro Suites; Centro Cultural Brasil-USA; City of Coral Gables Cultural Arts Program; City of Miami Beach Cultural Affairs Program, Cultural Arts Council; Consulate General of Brazil; Dade Community Foundation; DindyCo; Embraer; E.S. Moore Family Foundation; Etra Fine Art; Florida Dance Association; FIU Dance Department; Foundation for Contemporary Arts; Frida Kahlo Tequila; Greater Miami Convention and Visitors Bureau; Joseph H. and Florence A. Roblee Foundation; Mellon Private Wealth Management; M-DC Dance Department; Miami-Dade County Department of Cultural Affairs and the Mayor and Board of County Commissioners; Miami-Dade County Public Library; Miami-Dade County Public Schools; Miami River Inn; National Endowment for the Arts; National Performance Network; New World School of the Arts Dance Department; Publix Super Markets Charities; The Law Office of Linda M. Smith; Southern Arts Federation; State of Florida, Department of State, Division of Cultural Affairs and the Florida Arts Council; TAM Brazilian Airlines; Touch South Beach; Vortex Communications; WDNA & WLRN FM.
DATE & TIME
Friday & Saturday
March 16 & 17, 2007
8:30 pm

Post-concert discussion both nights
(Note that this event has already passed.)

LOCATION
Byron Carlyle Theater
500 71st Street
Miami Beach, FL



DIRECTIONS