Perhaps Europe's most coveted drummer, Han Bennink, the 2008 European Jazz Prize winner has performed with Sonny Rollins, Eric Dolphy and Dexter Gordon. Noted musicians Michael Moore (reeds) and Will Holshouser (accordion) complete this trio. Pyrotechnic improvisational journeys, whimsical tangents and blissful culminations come fast and furious when the Third Man Trio takes the stage.
"...from crisp Ellingtonian swing into cacophonous group improvisation"
— The New York Times,

"Everybody should, before they die, see Han Bennink." — The Miami Herald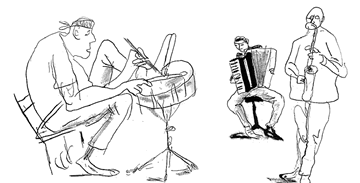 Drawing by Han Bennink

Hear the trio at their new posting on myspace

See and hear more Han Bennink at YouTube


Season partners and supporters for our 30th season include: Aquarius Press; Arthur F. and Alice E. Adams Charitable Foundation; Audrey Love Charitable Foundation; Barefoot Wine; Biscayne Times; Books & Books; Bresaro Suites; Centro Cultural Español (CCE); The Children's Trust; City of Coral Gables Cultural Arts Program; City of Miami Beach Cultural Affairs Program, Cultural Arts Council; Consulate General of the Netherlands; Dade Community Foundation; Dorsch Gallery; E.S. Moore Family Foundation; Florida Dance Association; Florida Department of State, Division of Cultural Affairs and the Florida Arts Council; Funding Arts Network; The Galler Group; Greater Miami Convention and Visitors Bureau; Grolsch; MiamiArtZine; Miami-Dade County Department of Cultural Affairs and the Mayor and Board of County Commissioners; Miami-Dade County Public Library; Miami-Dade County Public Schools; Miami River Inn; National Dance Project of the New England Foundation for the Arts, with lead funding from the Doris Duke Charitable Foundation and additional funding provided by The Andrew W. Mellon Foundation, and the Community Connections Fund of the MetLife Foundation; National Endowment for the Arts; National Performance Network with major funding from the Doris Duke Charitable Foundation, Ford Foundation, the National Endowment for the Arts (a federal agency), Altria, MetLife Foundation and the Nathan Cummings Foundation; Pridelines; Publix Super Markets Charities; River Lounge; Safe Schools South Florida; The Sain-Orr Royak DeForest Steadman Foundation; Rain Organics; The Law Office of Linda M. Smith; Southern Arts Federation; VSA Arts of Florida; Vortex Communications; WDNA & WLRN FM and our many private supporters.